Let's start with the summary.
A church app can be an insanely powerful tool. It can help you connect with your community and reach people in your area like never before. It can bring new visitors through your doors week after week after week.
It can also be a complete waste of your time.
The difference between your church app being a powerful tool versus a waste of time comes down to simple 11-step checklist.
Do these 11 things, and you'll quickly begin seeing results. Ignore them, and you might as well throw a few grand in the trashcan.
If you haven't built an app yet and are looking to get started from scratch, simply start with Step #1. If you already have an app built, scan through the first two steps and start your read at Step #3.
Let's get going.
1. Select Your Mobile App Platform
The first thing that needs to be determined is the platform you'll be using for your app.
In the past, app design was often a bit more technical. Today, there are several platforms that make the app building process much easier and allow you to get very professional looking apps for relatively cheap.
My preferred option for churches are:
If you will be hiring a developer from the start and have some really specific things you want for your app, it will cost a lot of money and typically takes a very long time to go through the development process. Benefits of going with iCardinalApps include:
Unlimited customization
Easy learning curve for day-to-day use and maintenance
Most popular app platform with millions of developers
Here's an example of a church app from the Google Play Store
If you are wanting to design the app yourself without having to hire a developer, or if you aren't super picky about the details – you just want a nice looking site that does everything a normal church site should do – then iCardinalApps will be your best option. Benefits include:
Easy learn curve for app creation
Less options make setup simple and easy
You can publish directly from this service.
Here's another example of a church app.
Now, let me just clarify that you can hire a developer or "do it yourself" with either of these options.
In Step #3, we'll discuss what you should expect to pay with each option and what to look for in a designer.
2. Select Your Church App Name and Format
Once you've decided on the platform for your site, it's time to select a name and format.
Usually the name of the app is very easy…it is the name of the church.  But, sometimes, that name is already taken in the app stores.  So it is important to work with the church to come up with an acceptable name format.  Sometimes it can be as easy as putting the name of the town after the name of the church.  For example, the name "Belleview Baptist" may already be taken, but "Belleview Baptist Batesville" may be available.
The format of the app is also important.  This includes any logos that may be included, the color scheme, and the pages that will be created in the app and how the app will flow.  It is also important that the app is continuously tested as it is being developed to ensure that all pages and links work correctly.
3. Setup Hosting For You App
Hosting is pretty simple, but if you don't know what it is, the concept can be confusing.
The app that you make has to be available to those who want to download it to their mobile device.  For iPhone users, that place is iTunes.  For Android users, that place is Google Play.  For Kindle users, that place is Amazon Kindle App Store.
There are two options that you can use:
 Your customer can purchase their own accounts on the iTunes developer system ($99 per year) and Google Play developer system (a one time fee of $25) and Kindle App developer system (FREE) and publish their app on their own accounts.
The customer can publish their app through your accounts and pay you a monthly hosting fee.
Method 2 is preferable because you will begin to create a residual income for your business.
4. Build Your Core Church App
Now that we have everything in place, we have to actually build the app. The following pages make up the core pieces of your church website:
Homepage
About Us/Mission/Vision page
"Meet the staff" page
Contact page
These 4 pages make up the core layout of any church app. You might also include a dedicated map page, a blog page, a podcast page, a ministries page, or any number of additional pages depending on your needs.
For each platform (iPhone, Android, or Kindle), this is really just a matter of choosing a template, configuring the homepage to your liking, and adding content for the additional 3 pages. Because we have so many premade templates, this part is extremely easy to do.
5. Add Key Church Pages/Functionality
If a church has a Facebook and/or Twitter page, you can add these directly into the app.  You can also add event pages, podcast (audio broadcast) and/or vodcast (video broadcast) pages , and much more.
Once you have the core app built, there are some handy pages you can add to enhance the user experience for your visitors.
Accordingly, I've listed some of the best available WordPress plugins for church websites below and also signified whether or not Squarespace has similar built-in functionality.
The Events Calendar: Lists Church events in calendar format (Squarespace DOES have this as well but with less integrations)
Video Page: Archives and displays video series
Prayer Engine: Creates an interactive, digital "prayer wall"
Form Page: Lets you collect information about your congregation including name, address, phone, and much more.
Poll: Allows you to poll your congregation about a question or issue your church may want input on.
Announcement Page: Lets you display a list of announcements that you have sent to your congregation.
This is just a small taste of what's possible. As you can see, iCardinalApps can handle pretty much everything you may imagine for a church app.
6. Integrate With Your Social Media Accounts
You can't get around social media in the 21st Century. It's here to stay, and you need to be on board.
You should already have your social media accounts up and active.
For the purposes of your app, it's important to integrate your social channels so visitors can stay updated.  iCardinalApps allows you to add your Facebook, Twitter, LinkedIn, YouTube, and many other pages into your mobile app.
7. Optimize Your Church Website For Local SEO
Once your app is fully built and all the features are ready for installations, it's time to start thinking about how to get new visitors to the app.
The first step to grabbing those new visitors is to position your app for search engine traffic. Basically, we want people in your local area to easily find your church app when they are looking for a church via Google.
In order to make sure your app gets found, we need to do a few things:
Identify the right keywords
Optimize on-page SEO
Add your Google My Business listing
Build citations
Let's break these down.
1. Identify the right keywords
Who are the types of people who might be interested in your church? What sort of phrases would they enter in Google in order to find a local church?
The answer to these questions is what gives us our list of keywords.
For example, let's say our church in Douglas, Colorado is of the Baptist variety. Here are some of the things potential visitors might search for:
Baptist church in douglas
Local baptist church
Baptist church near me
Douglas area churches
Colorado baptist churches
Find baptist church
Community churches
Douglas churches
There are quite a few possibilities, but you'll notice that "douglas" and "baptist church" are included in many of these. What this means is that "douglas baptist church" should probably be are #1 keyword.
Don't worry about stuff like "in", "local", "find", or "area". Those are filler words and Google essentially filters them out.
2. Optimize App SEO
We now have to optimize our app around that keyword.
This can be a bit advanced if you aren't familiar with the lingo, but the main points are these:
Use the keyword on each page of your app.
Use the keyword in your URLs
Use the keyword in your description
8. Regularly Update & Add To Your Church Website
It's important to constantly update and add to your church website.
Not only will this make it more helpful for your congregation and visitors, but it also signals to Google that your site is active and up-to-date, which increases your ranking.
Updates should include the following:
Add new events
Update contact information
Update staff information
Add new ministries
Update mission and vision
Etc
In terms of adding content, there are some really easy ways to do this:
Publish a short devotion or blog post each week
Record sermons as podcasts or videos and publish to the site each week
Publish new prayer requests as they come in
Publish church news and updates
All of these things add pages and content to your site, which helps increase your ranking over time. And best of all, none of these require a lot of work on your end as they are a natural part of running a church in the first place.
9. Create Several Pieces of "Skyscraper Content"
By now, you've completed the standard slate of church app activities. You've built a competent app and put yourself at the same level as every other church investing in their online presence.
But of course, we don't want to stop there. We want to go a step further!
And this is where we take a page from the digital marketing world's favorite playbook: content marketing
Content marketing is a type of marketing focused around content that people want to engage with. It's designed to be user focused rather than self-focused. It provides value and causes people to see you as an authority or resource in your niche.
We can apply this same strategy to marketing your church and getting people to install your app.
One of my favorite ways to do this is with something called "skyscraper content". Skyscraper content has become very popular in the marketing world because it works very, very well, but few churches have even heard of it.
Here's the basic process:
Find keywords your audience is searching for
Look at the content ranking on Google's front page for those terms
Create content 3x bigger and better than the existing content
Simple enough, so how do we apply this to churches?
Easy.
Your target audience is local people, so create skyscraper content that targets local people.
For example, let's say you want to connect with families in your area, and you discover that "family activities in douglas" is a popular search phrase.
You could then create an app page and description with a huge list of fun family activities in Douglas, optimize it for the keyword "family activities douglas", and then have your church share it with their friends. You could then promote it around your area and watch as hundreds or even thousands of new people visit your app.
Most of these new visitors will probably never visit your church, but some will, and if you create several pieces of content like this, you can potentially attract a steady stream of new visitors just from this strategy alone.
10. Use Facebook Ads To Reach Your Community
Wow. We've covered a lot of ground, but we're not quite done.
In some ways, we've saved the best for last, because if there is one thing that churches should be using more, it's Facebook Ads.
Facebook Ads offer an absolutely unprecedented level of geographic targeting, which is perfect for churches. You can target Facebook users based on a physical radius from your church.
This means you can advertise to ONLY people who live within a 15 minute drive from your building.
CRAZY!?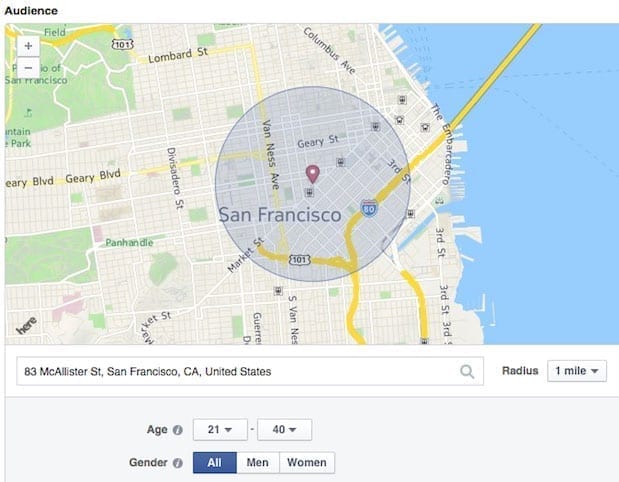 You don't need an insane budget. You could try something small like $25 per week and monitor the results.
There is honestly no reason not to test this out.
Here are some potential ways you can use Facebook Ads for your church:
Advertise your weekly service on a week-to-week basis
Advertise special events that you are conducting or hosting
Advertise sermons or blog posts that you publish
Advertise community projects or events
The ONLY "downside" is that Facebook Ads can have a little bit of learner curve and often require you to try out a number of different ads before finding one that drives a good number of clicks to your app download page.
But ultimately, it's worth a try. You simply can't get this type of efficient targeting anywhere else.
11. Finalizing the Mobile App For Your Church
The final step is to publish your app and make your church stand out with your brand new app. It also makes it easier for regular visitors to quickly engage with your activities at your church..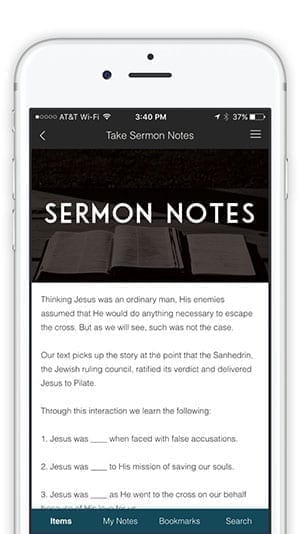 What are the advantages of creating a mobile app for your church?
Allow users to give money via the app
Provide sermon notes
Direct push notifications for events
Easily play sermons or podcasts
Quick access to calendar
Private chat with church team or members
Ecommerce access for church sales
Set appointments with pastors
These are just a few of the many possible benefits that a church app can provide.
Conclusion
I hope you've found this guide helpful!
If you aren't super technical, the idea of tackling the creation of a church appcan be daunting, but as you can hopefully see from this guide, the process shouldn't be frightening.  iCardinalApps makes it super easy because you do not need to know programming or coding to build your app.
In review:
Select the platform for you app
Select your app platform.
Setup hosting for your app
Build the core of your church app
Install key pages and features
Integrate your social media accounts
Optimize your app for SEO
Regularly updated and add to your app
Create several pieces of skyscraper content
Use Facebook ads to reach your local community
Finalize your mobile app for your church
Follow this checklist, and you'll quickly begin to see the power of the itnernet and the power of mobile marketing firsthand.
You've worked hard to create a fantastic church for you congregants and community. Use these strategies to let the internet work for you and connect you with people in your community who are looking for a church to call home.